Tropical Asian Luxury at Villa Upni Duniya
Submitted by CLX-view on May 19, 2017
This stunning beachside villa provides the perfect private accommodation for guests looking to relax in total comfort, while they enjoy the soothing tropical surroundings that make Koh Samui Thailand's favourite boutique island.
Signature Location
Situated just a 10-minute drive from Koh Samui International Airport, Upni Duniya enjoys a prime position close to the pleasant seaside village of Bang Rak. The property's spectacular beachside location makes it a firm favourite for beach lovers in search of an elegant holiday bolthole to relax and unwind away from Thailand's busier tourist hotspots. There is a range of outdoor activities available nearby, including golf and sailing. The property is also a short distance from the iconic Big Buddha statue and temple, one of Samui's most famous landmarks.
Signature Features
With the accommodation spread across nine luxury suites and a spacious living and dining pavilion, Upni Duniya can accommodate up to 18 guests in total comfort. Thanks to the commodious interiors and spacious landscaped gardens, this property is also perfect for get-togethers, including weddings, birthday parties and corporate retreats. The villa is positioned on either side of a path that leads directly down to the beach, framed in beautifully-landscaped garden for guests to enjoy, with plenty of shady areas for those that want to relax out of the sun. Other outdoor attractions include a beachside infinity pool with sunken sunbeds and an outdoor relaxation sala for relaxing or dining al fresco. Inside the pavilions, each of the bedrooms boasts its own ensuite bathroom with waterfall shower and luxurious bath tub. Other facilities include fully-equipped fitness suite, a lavish dining area and even a mini cinema.
Signature Design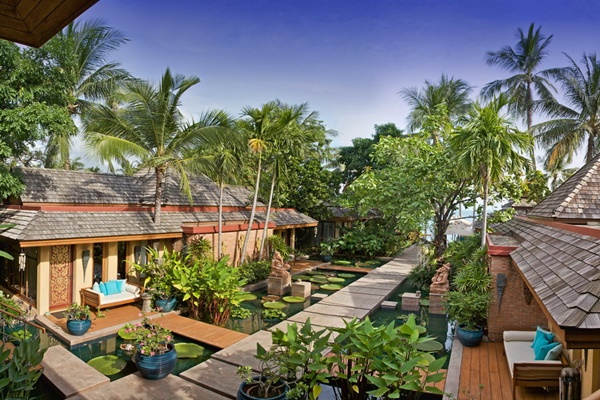 Upni Duniya is the ideal haven for guests in search of exclusive, private accommodation with an authentic flourish of Asian style fused with a chic, Mediterranean vibe. An open-plan layout helps the property retain a bright, airy feel and also ensures that the superb ocean vistas remain a primary focal point in many of the rooms. Doors slide right back to create a seamless transition between indoors and out and original artwork and lavish, colourful silk fabrics lend the dwelling a warm, homely ambience. Each of the bedroom suites has its own colour theme, adding to the personal feel of the villa. Rich, oiled wooden floors also enhances a sense of unbroken connection with the tropical surroundings.
Signature Service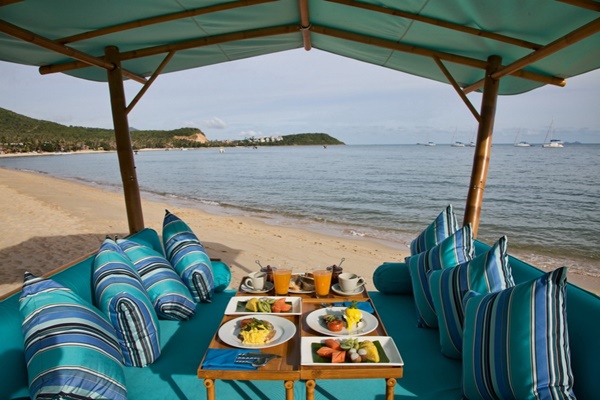 Guests that choose Upni Duniya as their Samui holiday residence can look forward to a full line-up of top class round-the-clock personalized services. The team comprises 14 plus professional hospitality staff in total, including two gourmet chefs who are always available to prepare whatever dish their guests require. They can turn an expert hand to Thai, Western and even Indian dishes and the unobtrusive service staff will deliver the flavours to your table, wherever you choose to dine. The on-site maintenance team are always on call to ensure that the property remains clean, tidy and fully operational throughout your stay. The guest relations and concierge team are also available to help the guests with any specific needs that arise. Their services can range from organising transport to recommending a local restaurant, or arranging sightseeing excursions to Samui's must-see attractions. Baby sitting and in-villa massage services are also available on request.
Signature Experiences
Upni Duniya's prime position on the breathtaking north coast of Koh Samui means that gazing out over spectacular ocean vistas is one of the most popular pastimes for guests, other than eating, drinking and relaxing. There's also the opportunity for a range of beach activities, from snorkelling trips to beach walks. A trip to the nearby Big Buddha temple is a must, especially for those keen to learn more about Thailand's intriguing culture. For a spot of retail therapy, Bophut's quaint Fisherman's Village is a short drive away. The area is home to a range of boutiques and cafes, and the weekly walking street market on Fridays is the perfect choice for those that want to pick up a few special souvenirs to take home.