Relax in Style at Villa Blue View
Submitted by CLX-view on October 30, 2016
Make the most of Samui's stupendous ocean views at this contemporary, ocean view masterpiece.
Signature location
For those in search of a secluded haven to simply get away from the day-to-day stress of life, this hilltop vacation rental property on Koh Samui provides the perfect bolt hole. Situated on the island's picturesque northern coast, Villa Blue View enjoys a superb vantage point nestled amongst the hillside palm groves of Bang Por, a quaint fishing village. The area is famous for its selection of authentic seafood restaurants, and is just a 30-minute drive from Samui International Airport. Thanks to its exclusive location off the beaten track, Villa Blue View is the ideal venue for those looking for a quiet, private place to stay. The bustling port town of Nathon is just 15-minutes away for energetic mornings when you're hankering for a change of pace.
Signature Features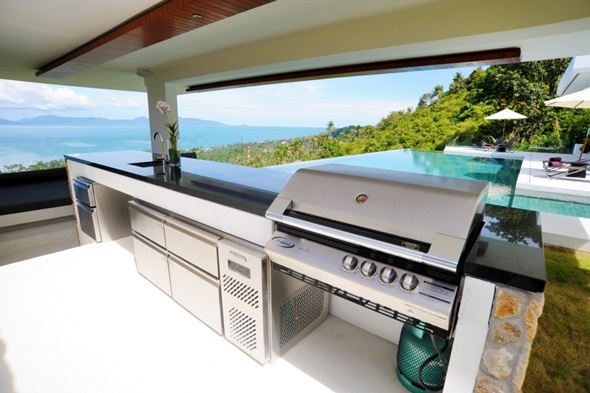 With five bedrooms and six bathrooms, this villa accommodates as many as 12 people, making it the perfect retreat for large family holidays and get-togethers. It's also a popular property for couples that are happy to share the facilities. Set around an exquisite infinity pool, Villa Blue View isn't short of places for guests to lie back and relax – whether that's outside in the sun or in one of the plush lounge areas. Thanks to the splendid ocean views, most guests would argue that the outdoor amenities form the main highlights of the property. A relaxation pavilion is positioned directly adjacent to the pool, perfect for when you want to enjoy a chilled glass of beer out of the sun. There's also a marble-topped bar to enhance the Mediterranean beach club-like feel. Inside, the villa's contemporary living spaces and bedrooms are complemented by a top of the range entertainment system, which includes a dedicated AV room with a 60-inch television that receives English, Chinese, Japanese, Korean and Taiwanese channels. A hi-tech Bose sound system is the cherry on the cake.
Signature Design
Once night falls and guests can no longer marvel at Villa Blue View's magnificent ocean vistas, they are free to soak up the visual splendour of the property itself. The contemporary, ergonomic design is the work of multi-award-winning GFAB Architects, who planned a building that would sit in harmony with its stunning hilltop setting. The layout of the structure is such that it takes in the ocean outlook from as many rooms as possible, and the unique setup of pagodas and sun terraces work to form a dwelling that truly blurs the line between indoor and outdoor living. The chic, modern aesthetics – both inside and out – furnish the villa with an unmistakeably luxurious feel, providing the perfect space for guests to relax on style on one of the property's many built-in day beds.
Signature Services
A lavish holiday rental such as Villa Blue View wouldn't be complete without its own dedicated team of staff to cater to guests' needs. First up, the resident villa maintenance team ensure the property retains its sleek, fresh and clean vibes throughout the vacation. There is also a villa concierge to assist guests with planning any excursions, making restaurant reservations nearby and even organising for a professional baby sitter to come and take care of little ones for several hours while mum and dad enjoy a romantic dinner whipped up by the property's professional chef. As well as whipping up a masterful range of culinary delights for guests, the chef is also able to give impromptu cooking workshops for those that want to take the tastes of Thailand back home once the vacation is over.
Signature Experiences
One of the true bonuses of Villa Blue View is that is comes with its own in house SUV, providing guests with the set of wheels they need to explore the local area. The local beach is just 800m away, for those that fancy a stroll along the sand. Situated within the province of Mae Nam, visitors can also enjoy the relaxing atmosphere of Mae Nam Beach – a delightful 7km stretch of sand that faces Koh Phangan. The Santiburi Samui Country Club is a short drove from the villa for those that fancy an afternoon in the tropical hills. The 18-hole championship golf course has become famous on the Asian golfing circuit for its magnificent views across lush hills and coconut plantations. For those that want to get the adrenaline pumping, Samui Canopy Adventures is also nearby for a day of family fun zip-lining between trees, at canopy level.