Oceanside Elegance at Sava Malee Sai
Submitted by CLX-view on June 9, 2016
With serene seas and a blissful sandy beach reached via a short stroll through the private lawned garden, Sava Malee Sai is one of Phuket's most appealing and sought-after holiday villas.
Signature Location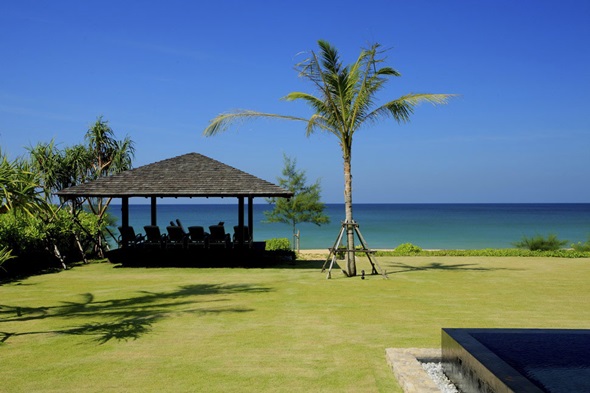 Thanks to its idyllic position on the stunning coast of Phang Nga province, one of the stars of Thailand's west coast, Natai Beach enjoys the best of both worlds – close proximity to the famed attractions of Phuket with the exclusivity and serenity of a secluded bay. Although the villa's untroubled surroundings feel pleasantly remote, it is only a 20-minute drive from Phuket International Airport, and the stunning beachfront location therefore makes it ideal for guests in search of an easily accessible private seaside escape. Being nestled within the luxurious Sava Estate is another bonus, as it ensures enviable exclusivity along with top notch hospitality services.
Signature Features:
Boasting six bedrooms, seven bathrooms and expansive communal living areas, Sava Malee Sai is an enticing option for large families and groups of friends, as well as a dream venue for private weddings, special celebrations and even corporate retreats. A spacious, open plan lounge area forms the atrium of the property, and looks out onto a vast salt water infinity pool. The bedrooms are spread over two levels and all feature either pool or ocean views. The pool itself is bordered by a handsome teak sun deck where plush cushioned sun loungers are poised for guests to relax and soak up the tropical. For those who enjoy dining al fresco, the villa's beachside garden features its own covered dining area – open at the side to welcome the refreshing sea breezes. A relaxation pavilion provides another place for residents to relax and also offers the perfect spot to watch the sunset, with nature's show accompanied by personalized playlist piped through the villa's top quality sound system.
Signature Designs:
Sava Malee Sai was definitely designed to make the most of its spectacular beachfront position with floor to ceiling windows in the master bedroom suites and main living areas allowing guests to marvel at the ocean views from dawn until dusk. The interior décor is the embodiment of contemporary Asian elegance with traditional teak flooring accentuated by genuine Chinese antiques and striking traditional artwork adding a splash of colour to the walls. This authentically Thai interior scheme is complemented by comfortable, Western style furniture – including comfortable sofas and day beds peppered around the villa for guests to kick back and relax in style.
Signature Services:
Guests at Sava Malee Sai live in the lap of luxury for the duration of their stay with the property's dedicated resident staff team taking care of every individual need. Three live-in staff members keep the villa looking fresh and fabulous each day, maintaining a low profile so guests can still enjoy the fantastic facilities in pleasing privacy. The estate's concierge or villa manager can help guests organize excursions, activities and even set up indulgent in-villa spa sessions. For guests that don't feel like making fill use of the fully-equipped kitchen themselves, there is also a Thai chef on hand to prepare a range of mouthwatering Thai, Western and fusion dishes throughout the day and also for evening meals.
Signature Experiences:
Restricted development along Natai Beach means excellent water quality and soft, unspoilt sand, also making it an ideal choice for guests that prefer to avoid the crowds. The orientation of the beach means that it's the perfect location for sunset strolls and a modest but tempting array of restaurants are scattered throughout the area for guests that like to eat out during their holiday. Being Thailand, there are several golf courses within easy reach of the villa, including the Mission Hills Golf Course on Phuket. Several marinas are located within easy driving distance, which means guests at Sava Malee Sai can also arrange to explore the Andaman Sea aboard a luxury private charter yacht.